This article explains how SDP users can provide feedback about their experience using the SDP client.
To help us continually improve our remote access, SDP users can provide feedback from within the Client. SDP users are prompted to provide feedback every few months, and they can also proactively provide feedback at any time. The feedback is a rating from one to five and free text comments. SDP user feedback is only visible to Cato, it is not visible to account Admins.
This feature is enabled by default.
A SDP user connects to their network daily with the SDP Client. They have a positive experience, and have feedback on how to enhance the Statistics screen. Rather than open a ticket with their IT team, they explain the enhancement in the feedback form and send it directly to Cato to review.
SDP users can provide feedback at any time directly from the Client or after receiving a pop up tray notification every few months.
Every few months, SDP users receive the following pop up tray notification: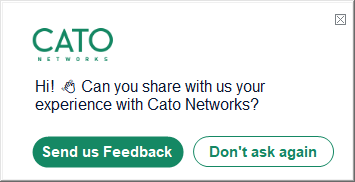 After receiving the prompt SDP users can choose to send feedback right away or at another time.
If they click Send us Feedback, the Client opens with the following feedback form displayed: