This article discusses how to use the Indications Catalog to get more information about potentially malicious activity identified by the Cato Detection & Response security layer.
For more about Detection & Response, see Reviewing Detection & Response Stories for Your Account.
The Indications Catalog contains explanations and reference information for the hundreds of indications (indicators of attack) that are identified by the Detection & Response security engines. An indication is a set of actions and behaviors that can indicate intent to carry out an attack, even if no actual security breach has been identified yet. For example, a host generating traffic that exhibits C&C characteristics may indicate a malware attack. When the engines analyze traffic data and identify a match for an indication, they create a security story that is shown in the Stories Workbench page, including the indication for the story and other data to help investigate the threat. The Indications Catalog provides a full description for all the indications.
You can easily search and filter the catalog to find indications, and check to see which indications relate to a specific attack tactic. The catalog also lets you look up a specific indication to see if it is covered by the Detection & Response engines, show the newest indications, and view event logs relevant to an indication.
The Indications Catalog includes information for a number of Types of threat indications, detected by the different Detection & Response engines. These are brief descriptions of the different engines and the types of indications they identify:
Threat Prevention - Detects a specific set of attack behaviors in IPS events

Threat Hunting - Identifies an expansive set of attack behaviors in events and richer traffic data

Usage Anomaly - Identifies indications that relate to applications showing unusual usage. For example, an application using more upstream bandwidth than usual

Events Anomaly - Detects indications that involve an entity on the network triggering an unusual number of security events
Your Detection & Response license determines the indication Types enabled for your account. The Indications Catalog shows your current license, and whether a specific indication is available for that license. When an indication is unavailable for your license, stories based on that indication won't be created and shown in the Stories Workbench. These are the licenses and the indication Types enabled for each:
License

Available Indication Types

XDR Core

Threat Prevention

Threat Hunting

Usage Anomaly

Events Anomaly
For more about the Cato MDR service, see Cato Managed Services.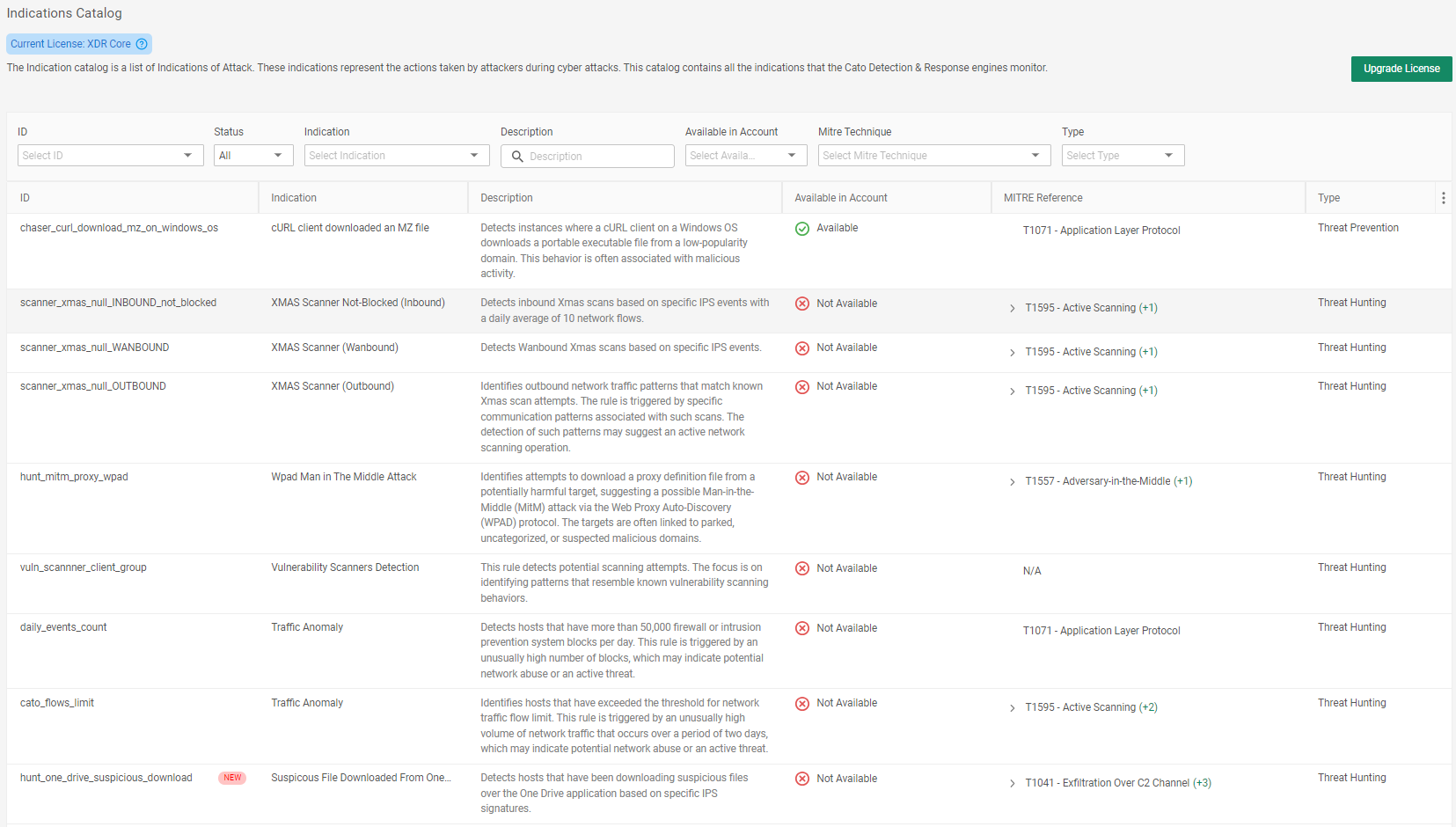 To show the Indications Catalog:
From the navigation menu, click Assets > Indications Catalog.
The Indications Catalog has these columns:
ID - The identifier for the indication used by the Detection & Response engines

Indication - The name of the indication category. A category can include multiple different indications with similar behaviors

A Description of the indication's suspicious actions and behaviors

Available in Account - Whether the indication is enabled for the account, based on the Detection & Response license level.

For more information about indication availability, see Indication Types and Licensing.

MITRE Reference - Shows the related MITRE ATT&CK® framework threat techniques for the indication. For more about the MITRE ATT&CK® framework, see Working with the MITRE ATT&CK® Dashboard

Click the reference to open the Events page pre-filtered for the MITRE ATT&CK® technique

Type - Shows the Detection & Response engine that detects the indication
Set the following filters to easily find relevant indications:
ID - Select an indication ID to show the indication

You can use the Status drop-down menu to filter the catalog to show only New indications.

Indications are considered new if they were recently added to the catalog, and appear with the label New. The label doesn't indicate a specific time frame

Indication - Select an indication category to filter the catalog to show the indications in that category

Search the Description field for relevant indications.

Available in Account - Filter the catalog to show only the indications that are Available or Not Available for the account.

For more information about indication availability, see Indication Types and Licensing.

MITRE Technique - Select an attack technique as defined in the MITRE ATT&CK® framework to show indications related to the technique

Type - Select a Detection & Response engine to filter the catalog to show the indications that the engine detects