This article explains how to use Global IP Ranges across multiple policies.
The Global IP Range entity is a global object in the Cato Management Application that you define and then use in rules across multiple policies. For example, you can use the same range for servers in WAN Firewall, Internet Firewall, and other policies. If at some point the range changes, you only need to update the object once, and all the policies are automatically updated.
You can also a use Custom IP Range for situations where the IP range is only used in the specific rule.
Note
Note: The Cato Management Application also supports Floating Ranges, which are only apply to traffic routed via BGP, and when the advertised route is an exact match to the Floating Range.
Create the IP Ranges and define the range of IP addresses for each object. In addition, you can provide a name and description they can be easily identified in the policies. You can use a single IP address, range, or a CIDR block for the IP Range.
Then you can use the IP Range as a global object in one or more of these policies:
Internet Firewall

WAN Firewall

IPS

Anti-Malware

Application Control (CASB and DLP)

TLS Inspection

To create an IP Range:
From the navigation menu, click Network > IP Ranges.

Click New. The New IP Range panel opens.

Define the settings for the IP range.

Click Apply, and then click Save.

To edit an IP range:

Click the Name for the range. The Edit IP Range panel opens.

Edit the settings.

Click Apply, and then click Save.
These are the IP ranges that you can use for the relevant settings in rules, such as Source or Destination:
Global IP Range - a global object that was created using the section above

Custom IP Range - Define the IP addresses that only apply to the specific rule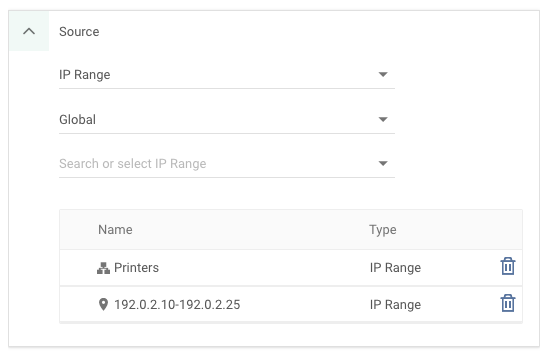 To use IP Ranges in a rule:
In the relevant section of the rule, select the IP Range item.

Select if the rule is using a Global or Custom range.

For Global ranges, select the IP range you are adding to the rule.

For Custom ranges, enter the IP address or range of IPs you are adding to the rule.

Click Apply, and then click Save.