This article discusses how to use the Device Inventory to keep track of the devices connected to your network.
Note
Note: This is an Early Availability (EA) feature that is only available for limited release. For more information, contact your Cato Networks representative or send an email to ea@catonetworks.com.
The Device Inventory page is a single dashboard that provides visibiliy for all devices that have connected to the network. The page shows a wealth of data about IT, IoT, and OT devices, all of which are classified into granular categories. With the advanced filtering options, you can filter for specific criteria and show all the devices that match the criteria. For example, you can show all IP cameras on the network, and check their operating system versions.
The Device Inventory detection engine uses advanced machine learning algorithms to analyze WANbound and outbound traffic and detect, identify, and classify the connected devices. This passive method of detection automatically identifies the devices with no special setup required.
The page includes widgets that show information such as:
Devices by Site

The number of devices by the following criteria:

Operating System

General device Category, such as: Server, IoT, Mobile

Specific Device Type, such as: Workstation, Printer, Network Appliance, Mobile Phone, etc.

Manufacturer
Use the time range filter to determine the time window for the device data shown in the page. For more about the time range filter, see Setting the Time Range Filter.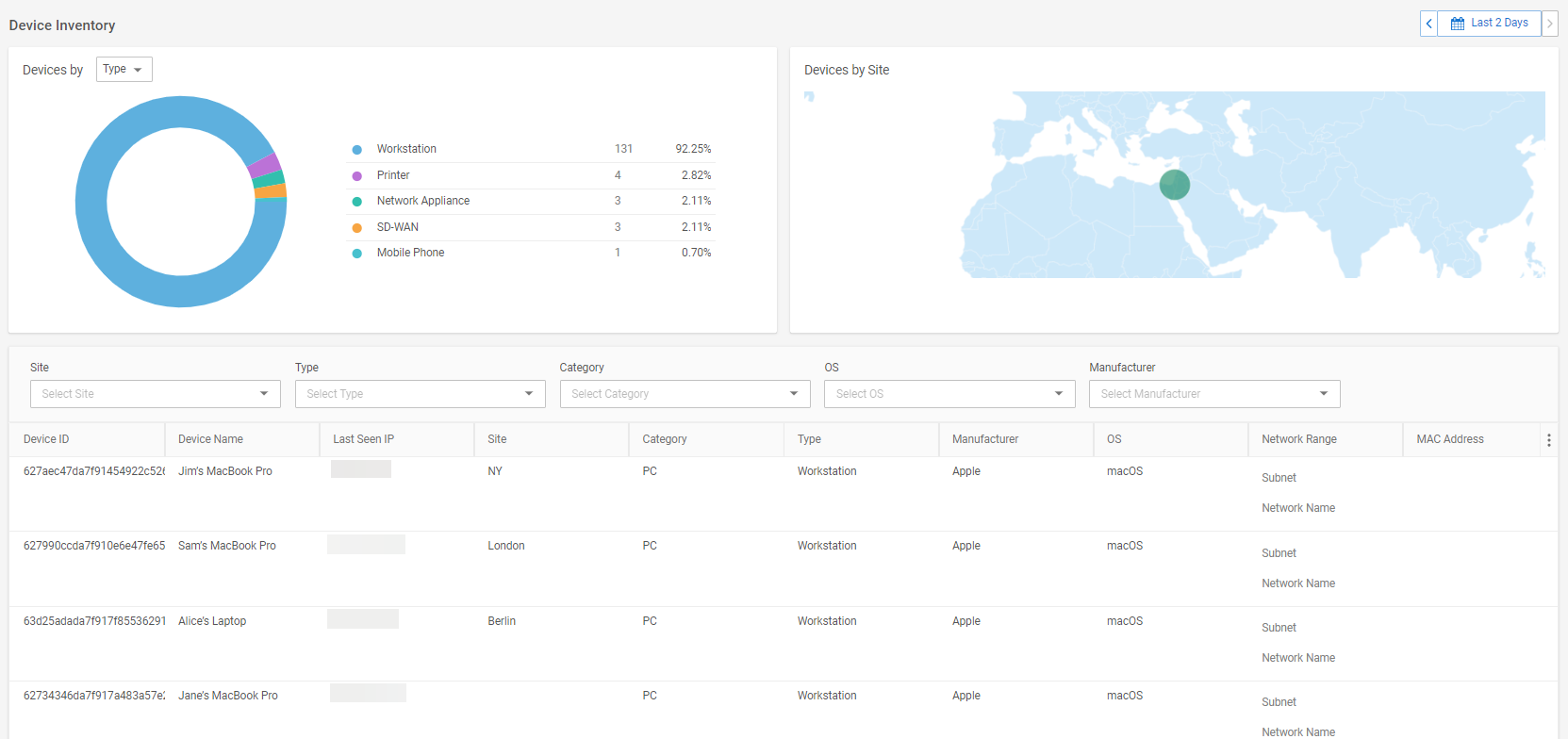 Devices that communicate only over LAN traffic (for example, only behind a Socket) can't be detected and won't appear in the inventory

For devices to be correctly detected, they must communicate with identifiers in one of the following protocols: DHCP, HTTP, MAC, TCP/IP, FTP. Devices that use other protocols are not fully supported, however they might still appear in the inventory with limited data. For example, a device might be identified as a generic windows device instead of an IoT device

A device that didn't communicate for 3 days in WANbound or outbound traffic won't appear in the inventory. For example, if a user took home a mobile device and didn't use it for 3 days

Occasionally, the same device might appear more than once in the inventory, under different Device IDs. This can happen if the device connects to the network with multiple IP addresses within a 24 hour period

Occasionally, different devices might be appear under the same entry and Device ID. This can happen, for example, if a mobile device and workstation connect using the same IP address within a 24 hour period. When this occurs, the inventory entry might contain conflicting or inaccurate data
For optimal device detection, accuracy, classification, and granular data, we recommend the following practices: