Overview
PPPoE is a network protocol used to encapsulate PPP (Point-to-Point Protocol) frames inside Ethernet frames. It combines the PPP that owns the function of authentication and encryption and the Ethernet protocol that can support multiple users in a LAN.
If required by your Internet Service Provider, you can define a PPPoE connection for the WAN
interface on the Cato Sockets using the following process.
How to Configure PPPoE
To define a PPPoE connection for the WAN interface:
1) Navigate to the WebUI of the Socket.
In your browser, type the URL https://[your Cato Socket's IP address]. For example, https://10.20.0.12
If this is a new socket that has never been connected to the WAN, connect your computer to LAN2 (not LAN1), and navigate to the following URL in your browser: https://169.254.100.1
2) Enter your login credentials. If this is the first time you are connecting to the SocketUI, use the following credentials:
username = admin
password = admin
Please ensure to change these credentials from the default parameters to maintain security for your Socket. Note that after six consecutive failed login attempts, you will be locked out of your account for at least 30 minutes.
3) In the Cato Socket Configuration window, click Network Settings to be presented with the page to configure interface settings. Click the PPPoE radio button to start modifying your PPPoE settings.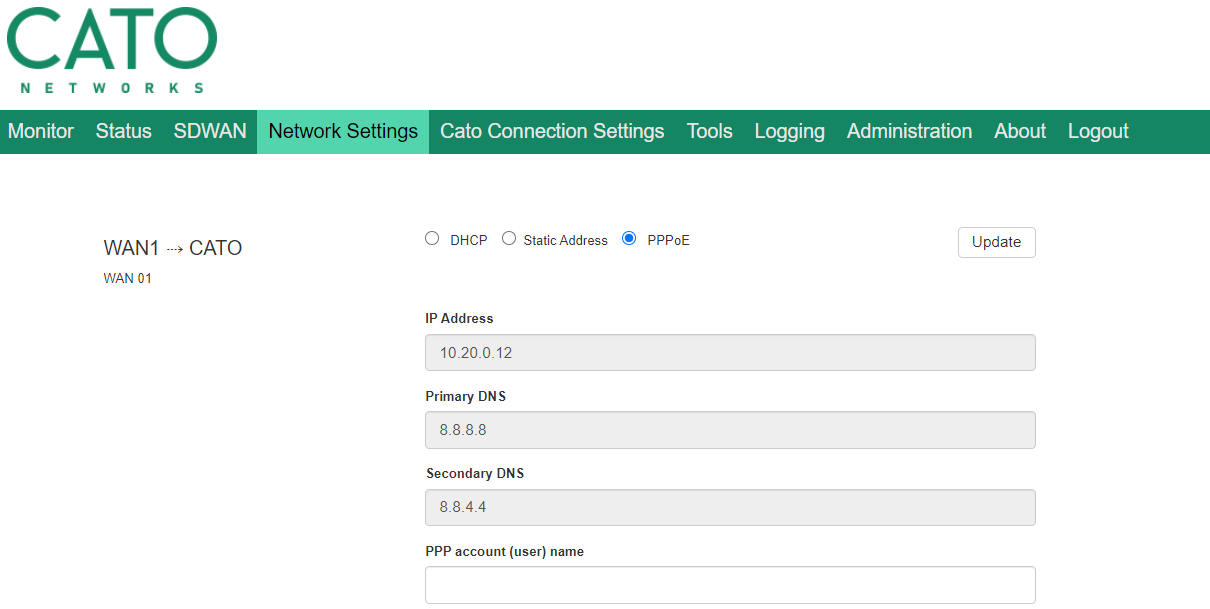 4) Enter the configuration parameters to establish your PPPoE connection. The following fields are mandatory:
PPP account (user) name
PPP account secret (password)
Confirm your password
5) The following additional fields are optional and should be configured as instructed by your ISP:
Service name
Configured IP address
Configured primary DNS server address
Configured secondary DNS server
Configured MTU
Configured VLAN tag

6) Click Update to save your settings.
Troubleshooting PPPoE
Challenge: For deployments where there is a gateway between the Socket and the Internet/WAN acting either as a PPPoE bridge or a transparent bridge, sometimes the WAN link on the Socket can go down for 3 seconds. This causes the DTLS tunnel to reset and interrupts sessions for the end-users.
Solution: We have identified this issue occurring on the gateway models with 802.3az EEE-enabled devices. Below are models that Cato confirms that EEE is enabled.
Please contact your ISP and request a different gateway model.