Cato Networks is changing the field options
when customers open Support requests.
Starting on July 4th, 2021 we are changing the Cato Support portal and adding new fields when you create a request to the Support team.
Adding Information to a Support Request
Our Support team is ready to assist 24/7 with all our resources regarding any
issue, request, or concern relevant to Cato Networks.
It is best to include the full scope of information about your issue or inquiry and also all the details in the request. This helps the Support team to avoid an immediate need to follow up and gather more information.
For creating a Support request, see
Submitting a Support Ticket.
The following screenshot explains each of the mandatory fields to submit a request to the Cato Support team.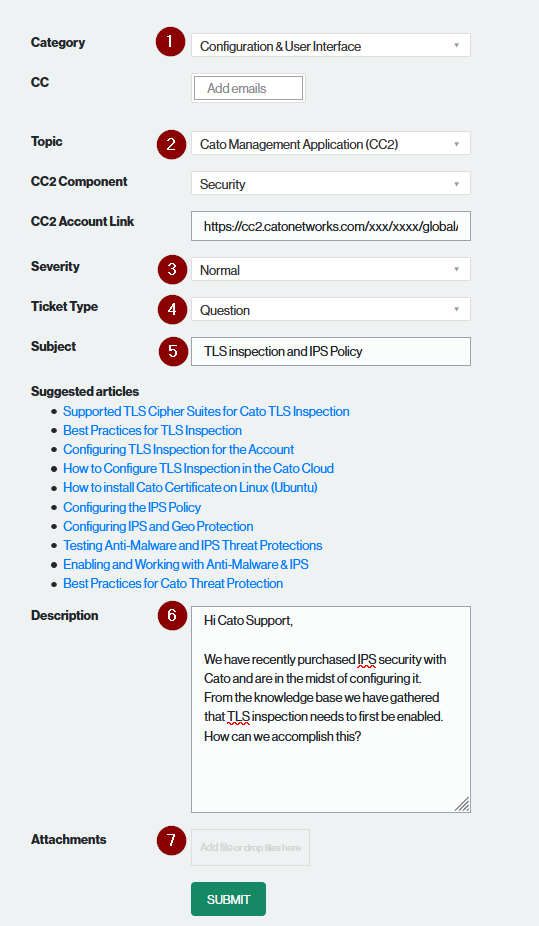 Category
Choose the category that best fits your use case for the request. The category allows Cato Support to understand your problem or inquiry.


Topic
Choose a topic based on your selected category which best suits your problem or inquiry.


Severity
We recommend that you choose the severity based on the impact to your business, to ensure that the correct resources are assigned to your request. We recommend that you choose the highest severities for requests that don't have a work-around or which directly impact current production business applications.

Ticket Type
Select the ticket type which best fits your inquiry. Inquiries to Cato Support can either be a technical issue, question, requests, or hands-free requests.

Subject
Write a brief title that describes your issue. For example: Failed VPN Installation


Description
This is the most important field and gives Cato Networks Support the necessary information to resolve your request. When you provide as much detail as possible, you increase the chances that your request will be resolved quickly. To ensure that your description is as detailed as possible, please include relevant resource information, along with anything else that might help us understand your issue.
For example, to troubleshoot connectivity related incidents please include in the description: timestamps, relevant sites, related error messages, and impacted business applications.


Attachments
Include any images/screenshots, logs, or files as attachments to the request.