This article discusses how to define DNS forwarding rules for your account.
You can configure DNS Forwarding rules to forward any DNS queries with the specified domain names to resolve with a private DNS server (instead of by Cato Cloud DNS server). For example, sometimes mobile users need to connect directly to the Cato Cloud instead of going through one of your internal servers or sites.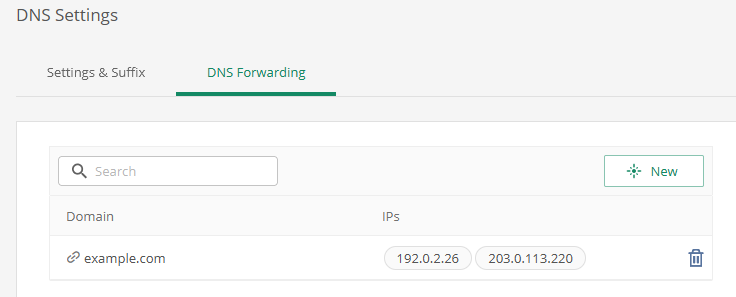 Note
Notes:
Cato can forward DNS queries only if you use Cato's default DNS servers and don't configure private DNS servers.

DNS Forwarding can process requests only over UDP and not over TCP.

The PoP doesn't store DNS forwarding requests in the cache.
To add a DNS forwarding rule:
From the navigation menu, click Network > DNS Settings. The Settings & Suffix tab is displayed.

Click the DNS Forwarding tab.

Click New to add a DNS Forwarding rule. The Add panel opens.

Enter the Domain for the traffic that matches this DNS Forwarding rule.
You can define one domain per rule.

In the IPs section, enter the IP address for the DNS server for this rule. Each rule supports up to four DNS servers.

Click Apply. The rule is added to the DNS Forwarding rulebase.

Click Save.