This article discusses how to use the Domain Lookup feature to find the Cato category for a domain.
Cato's system categories help you to easily manage the domains for different types of Internet content, such as Gambling or Hacking. However sometimes you don't know which category a domain belongs to, and how policies might impact traffic to the domain. You can use Domain Lookup to show the Cato system categories for a specific domain.
For example, an Internet Firewall policy blocks the Gambling category. There are users that need to access a website related to gambling, you can't if that website is included in the Gambling category.
Domain Lookup also helps you assess the security risk of a domain with the following information:
Popularity - How often the domain is visited according to Cato internal data - low popularity domains are generally suspicious

Malicious Score - The likelihood that the domain is malicious according to Cato threat intelligence algorithms. The score ranges from 0 (benign) to 1 (malicious)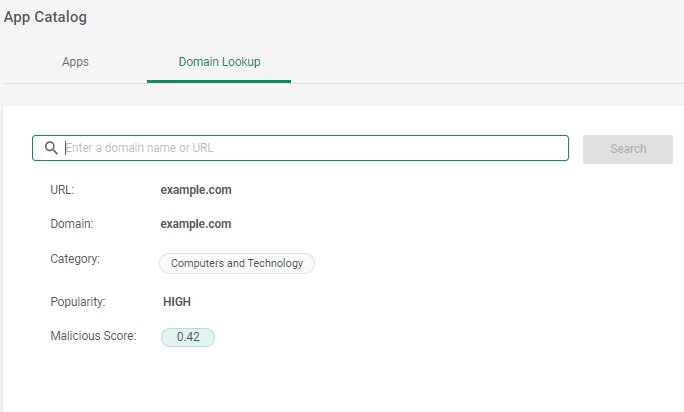 Copy and paste the URL or domain to the search bar, and the system category for a domain is displayed.
Domain Lookup supports both TLD and FQDN domains

To report a wrong category, please contact Support